Amerikas nye planer for etnisk konflikt, drar krig med Russland nærmere - Khazakstan og dets problemer
(Les om oljen og gassen vi i Vesten stjeler fra Midtøsten med den "enkle" fremgangsmåte, som fungerer hver eneste steike gang overfor journalister som er med på notene, "Deres demokratiske valgte landsleder synes vi er en drittsekk, troll, tyrann og diktatorer - i henhold til vår egen edle standard - derfor må han fjernes!")
---------- Forwarded message ----------
From:
Date: 2016-09-09 19:25 GMT+02:00
Subject: Fwd: Viktige nyheter, del 68 - KUHNER: How Obama arms al Qaeda + Man Who Leaked Clinton's Medical Records Found Dead
To: forsvaret@mil.no, post@pst.politiet.no, 02255@tv2.no, 03030@nrk.no, 2200@vg.no, 2286@aftenposten.no, john.arne.markussen@dagbladet.no
---------- Forwarded message ----------
From:
Date: 2016-08-30 18:32 GMT+02:00
Subject: Viktige nyheter, del 68 - KUHNER: How Obama arms al Qaeda + Man Who Leaked Clinton's Medical Records Found Dead
To:
redaksjonen@nettavisen.no
501)
Kazakhstan and its problems
By GPD on June 8, 2016
America's new plan for ethnic conflict, pushing closer to war with Russia
Northern Kazakhstan has an ethnically Russian population which opens the door to the possibility of a
conflict along ethnic lines, much like the Donbass situation but on a much larger scale due to the larger
area and population.
Machine translated
Colonel Cassad
On the topic of what is happening with Kazakhstan. Currently, Kazakhstan is a fairly typical for the Middle East and Central Asia vysokopersonifitsirovannuyu autocracy with peripheral capitalism version. Wind "Arab Spring" and a series of color revolutions of the first wave, which quite a few state Porush creating in their place a bloody chaos, the whole bypassed by his side.
Without much effort, you can see how do the authorities of Kazakhstan and Russia are interested in maintaining the status quo, stretching it until departure or death Nazarbayev, for which we have looked at the gaping void. These attempts to postpone the decision for later accumulated problems in recent years have increasingly hampered by various negative processes as the internal genesis, and inspired from outside.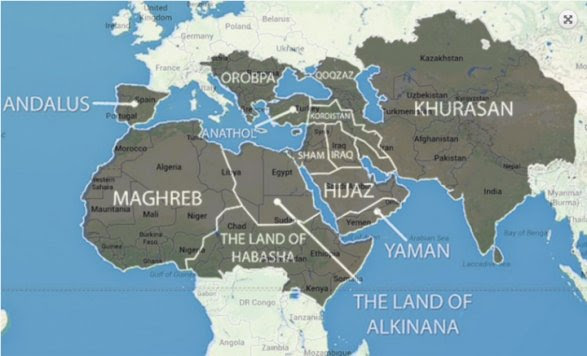 1. Islamism . Like all the republics of Central Asia, Kazakhstan is influenced by radical Islam, which has recently been stronger than all tied to the subject of the Caliphate. Hundreds of citizens went to fight in Syria and Iraq in the ranks of the Caliphate, some have already returned or will return to have in place work within the stage of pre-territorial Control - to conduct agitation and propaganda, to create cells and to look for ways to withdraw from the under-management of the attacked country of the its territory, to create his Wilayat.
It is worth recalling that the Caliphate in its propaganda claims as the Russian Caucasus, and on a large part of Central Asia, including Kazakhstan. Of course, at this stage it is more a problem for Kyrgyzstan and Tajikistan, but a feature of the Caliphate of the strategy is that sometimes there is a direct border between Vilayat "black" and the attacked state is not required, since much of this infrastructure is created at the expense of local resources.
to this is added the activities of groups and individuals associated with the structures of "Al-Qaeda", the various Islamist groups with a national or ethnic bias, as well as the legal of the pan, a small layer of which was formed in Kazakhstan with possible assistance of Turkey, which is still in doerdogansky period tried to promote the concept of pan-Turkic world.
For non-uniform in the ethnic and religious diversity of the country, a conglomerate of moderate and radical Islamists is answered by a serious threat, especially in the case of increase chaos in Kazakhstan, since the negative scenarios related to the dismantling of the Nazarbayev regime, Islamists may try to repeat what they have already turned in Libya , Egypt, Afghanistan - that is, to create its own quasi-state structure or lead to banal civil war, as it did for example in Tajikistan in the early 90s. It is a distant threat, but its risk is far from zero, since for this threat are people with experience, who were doing similar in different countries. The army and police there can not be a panacea - just look at what is happening in Sinai.
2. The struggle for "democracy." The responsibility for the attack on Aktobe has assumed a certain "Liberation Army of Kazakhstan", which is fighting "for democracy against Nazarbayev clique" and fighting in Aktobe were "the first battles for democracy", that is a bit like the first clashes in Benghazi and Homs, which led to the well-known results in Libya and Syria.
Since the legal and complete the political opposition in Kazakhstan is almost absent, if you want to shake the country from the outside, especially new techniques to come up with is not necessary - if there is a problem of a shake and see what comes of it, the technologies of color revolutions a second wave of fit, especially since the shedding of blood there is not a boundary scenario, in contrast to the color revolutions of version 1.0, which proponents have tried to make it bloodless.
Les resten:
http://www.veteranstoday.com/2016/06/08/kazakhstan-and-its-problems/
500)
'I'm ready to face jail again': Grandmother who was locked up for hugging her granddaughter defies secret courts who tried to stop her from seeing her family
Kathleen Danby's granddaughter Janine is forced to live in care home
She ran away to Kathleen, 75, but was made to return to the home
Kathleen jailed for three months in 2014 after caught hugging Janine
She now faces further investigation after her granddaughter stayed over
---
Turkey Surrenders?
The Scarlet Letter
The only conclusion I can come to is that Erdogan has in effect, surrendered to Russia, and the letter of apology for shooting down the Russian plane is in fact a letter of surrender.
On the 7th of June Assad, re-elected by the Syrian people, said that Alleppo would be Erdogan's graveyard and that he would reclaim every part of Syria and not surrender any territory to Erdogan's backed Daesh/ISIS. Today Alleppo is being pounded by the Syrian Army with Russian air support. It is only a matter of time before Assad reclaims the city.
Also in early June Germany acknowledged the Armenian Genocide which angered Erdogan and he withdrew the Turkish ambassador.
It has become clear to Erdogan that Turkey will not be admitted into the European Union in the near future and if anything after the Brexit vote, it is doubtful that the European Union as it currently stands will still exist within the next five years. Holland, France, Italy and Spain being a number of other countries who want to hold a referendum in order to secure their own Leave vote. And that includes Germany.
Erdogan is not only a war criminal who has been buying illegal stolen oil from Daesh/ISIS in collusion with Genel(1) and Genie (2), and supporting them and the so-called "rebels"since 2012, along with support from the US, UK, Saudi Arabia, Qatar and Israel, but has also been committing gross human rights abuses within his own country with draconian anti-terror laws, which have been used to incarcerate journalists and human rights advocates.
Les resten:
http://www.veteranstoday.com/2016/06/30/turkey-surrenders/
Raqqas Rockefellere - Hvordan IS smugler sin olje