Brexit og det jødiske oligarki - Den khazariske mafias korte og turbulente historie i Russland og Asia

Gilad Atzmon is an Israeli-born British jazz saxophonist, novelist, political activist and writer.

Atzmon's album Exile was BBC jazz album of the year in 2003. Playing over 100 dates a year,[4] he has been called "surely the hardest-gigging man in British jazz." His albums, of which he has recorded nine to date, often explore the music of the Middle East and political themes. He has described himself as a "devoted political artist." He supports the Palestinian right of return and the one-state solution in the Israeli-Palestinian conflict.

His criticisms of Zionism, Jewish identity, and Judaism, as well as his controversial views on The Holocaust and Jewish history have led to allegations of antisemitism from both Zionists and anti-Zionists. A profile in The Guardian in 2009 which described Atzmon as "one of London's finest saxophonists" stated: "It is Atzmon's blunt anti-Zionism rather than his music that has given him an international profile, particularly in the Arab world, where his essays are widely read."

His new book The Wandering Who? is now availble at Amazon.com

View Latest Posts >>>
---
Brexit and Jewish Oligarchy
By Gilad Atzmon on June 26, 2016
Goldman Sachs, George Soros are not part of the Brussels Government
By Gilad Atzmon
Yesterday Britain voted to leave the EU. The causes of this result have been known for a while. More than half of the Brits are dismayed by the level of immigration, multiculturalism, lack of job opportunities, global capitalism, evaporation of manufacturing and a housing bubble that leaves most young Brits without the prospect of a decent future.
The Brexit was an outlet for these legitimate frustrations. Yet the problematic symptoms listed above have little to do with the EU or Brussels. Their root cause lies elsewhere.
Immigration and multiculturalism (that is; the ideology designed to suppress expression of chauvinism) are integral to cultural Marxist ideology. Britain, like the rest of the West, has been subject to an invasive and brutal paradigm designed to vitiate the working class. Flooding Britain with immigration was a conscious political act pushed by the Jewish left and the Jewish lobby. This is explainable. Jews have good reason to be fearful of the working classes. Historically, it has been the working classes that turned against the Jews. Breaking society into fragmented and diverse segments is transparently a Jewish left interest. When a society is broken into a manifold of tribes and identities, the Jews become merely one tribe amongst many.
Les resten:
Jonas E. Alexis graduated from Avon Park High School, studied mathematics and philosophy as an undergraduate at Palm Beach Atlantic University, and has a master's degree in education from Grand Canyon University.

Some of his main interests include the history of Christianity, U.S. foreign policy, the history of the Israel/Palestine conflict, and the history of ideas. He is the author of the new book ,Christianity & Rabbinic Judaism: A History of Conflict Between Christianity and Rabbinic Judaism from the first Century to the Twenty-first Century.

He is currently teaching mathematics in South Korea. He plays soccer and basketball in his spare time. He is also a cyclist. He is currently writing a book tentatively titled Zionism and the West.

Alexis welcomes comments, letters, and queries in order to advance, explain, and expound rational and logical discussion on issues such as the Israel/Palestine conflict, the history of Christianity, and the history of ideas.

In the interest of maintaining a civil forum, Alexis asks that all queries be appropriately respectful and maintain a level of civility. As the saying goes, "iron sharpens iron," and the best way to sharpen one's mind is through constructive criticism, good and bad.

However, Alexis has no patience with name-calling and ad hominem attack. He has deliberately ignored many queries and irrational individuals in the past for this specific reason--and he will continue to abide by this policy.
View Latest Posts >>>
Brief and Turbulent History of the Khazarian Mafia in Russia and Asia
By Jonas E. Alexis on August 15, 2016
Ever since Putin first came to power in 2000, he has proven himself largely immune to Jewish-Zionist machinations - much to their chagrin.

If flaming Neocon David Horowitz is right, that the Khazarian Mafia and their puppets "have played a disproportionate role as leaders of the modern revolutionary movements in Europe and the West,"[1] then one shouldn't be surprised that the same wicked people have tried to bring down Russia over the centuries.
According to Horowitz, over the centuries the Khazarian Mafia and their gangsters have attempted to "fulfill the messianic prophecies of the pre-Enlightenment," which always created trouble in Europe. Those "messianic prophecies" were arguably hatched from Talmudic mores and customs, and they have brought nothing but misery upon the world. The Revolution of 1848, The Russian Revolution, Mao's Great Leap Forward, Ho Chi Minh's communist movement in Vietnam, Pol Pot's Khmer Rouge in Cambodia, and more recently perpetual wars in the Middle East are classic manifestations of those "
Les resten:
http://www.veteranstoday.com/2016/08/15/brief-and-turbulent-history-of-the-khazarian-mafia-in-russia-and-asia/
---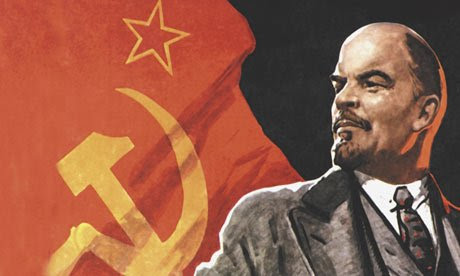 Vladimir Lenin
---
The Kissinger Deception in the Yom Kippur War
Battle of Mosul: lies and deception are the key weapons deployed
Can Everyone Stop Saying The Houthis Are An Iranian Proxy?
Public Debate at European Parliament engaged by President of ECIPS
Worse than the email scandal: Trump Has Offensive Tapes Deleted, Hidden from Courts
Are George Soros and Saul Alinsky Satanists?
---
Hell i Trøndelag? Eller Værnes?
---
Ungarns Orban avviser Brüssels "Sovjetisering", forsvarer nasjonalstat
---